Our Research And Services
HRD Antwerp Research Department is an institution staffed by highly experienced scientists and engineers, specialising in fundamental and applied research in the diamond sector.
Our grading reports cover all the valuation factors for loose diamonds and jewellery, ensuring you know everything about the diamond(s) or jewellery you are buying or selling.
Grading Report - Security Features
Micro text, fluo marks, a line structure, a hologram and exclusively created safety paper make an HRD Antwerp grading report tamperproof. Some of these exclusive security features are discreetly incorporated and only detectable under UV light or by a 10x loupe.
MICRO TEXT
Have you spotted the blue line on the bottom of the report? That's no ordinary line. When viewed under a 10x loupe you will see that it reads 'HRD Antwerp'.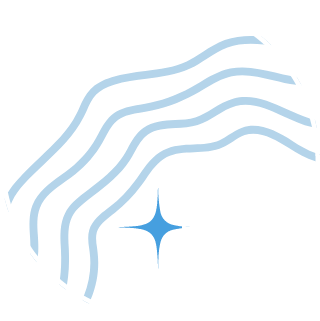 HOLOGRAM
For secure authentication, we added an HRD Antwerp Certified hologram to our grading reports. This type of security feature offers very effective anti-counterfeiting protection.
FLUO MARKS
The entire grading report contains fluorescent fibers and flags that are only visible under UV light. These security measures are similar to those used on bank notes.
LINE STRUCTURE
Copy-Protected security line structures are embedded in the blue box. When copied, the text is still readable but the geometrical pattern is disturbed.
WATERMARKS
Each and every HRD Antwerp grading report contains a watermark with the HRD Antwerp logo. This feature only becomes visible to the naked eye when held up against light source.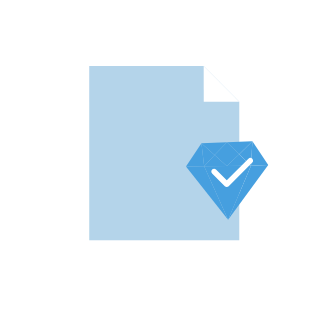 SAFETY PAPER
The HRD Antwerp grading report material is exclusively created for us and therefore not available for third parties. Every sheet of paper has a unique number.
HRD Antwerp Lab Policy
DATA AVAILABILITY
Are you looking for a specific HRD Antwerp diamond or jewellery grading report? A digital copy of every diamond and jewellery grading report issued post 2013 is available in our database for a time period of 10 years. If the report you are looking for is not available, please contact us on diamondlab@hrdantwerp.com for further assistance.
UTMOST SECURITY
A grading report is your diamond's or jewellery's fingerprint. In order to protect you from counterfeit grading reports, HRD Antwerp has incorporated exclusive security features in its grading reports which are visible by loupe and/or UV light.
QUALITY THAT INSPIRES CONFIDENCE
The integrity of the HRD Antwerp grading process is absolute. Our diamond lab applies an uncompromising operating code which it supports by using some of the most sophisticated technology and qualified graders available. HRD Antwerp's extensive in-house research department makes sure all processes are updated according to the latest industry developments.
STRICT ANONYMITY AND OBJECTIVITY
The absolute objectivity of the grading results is guaranteed by means of a double coding system: one set of codes is given to the owner, while the other follows the diamond in the lab. Strict anonymity guarantees strict objectivity.
Additional Services
Take advantage of our additional services to add value to your diamond. We offer unique additional services which are tailored to your needs. For more information and prices, please consult our price lists or contact our helpdesk via e-mail diamondlab@hrdantwerp.com or at +32 3 222 06 25
HEARTS & ARROWS DIAMONDS
Hearts & Arrows diamonds are precisely cut round brilliants that, when examined using a special viewer, display eight hearts through the pavilion of the diamond (from below) and eight arrows through the crown of the diamond (from above). The appearance of the pattern is a strong indicator of a top-quality cut.
LASER INSCRIPTION
To inscribe diamonds with lasers, HRD Antwerp uses high-quality excimer shortwave technology. It cannot be seen with the naked eye and consequently does not affect the diamond's physical appearance or value. Laser inscription can either be used to match your diamond and its corresponding grading report or to customise your diamond with a personalised message or logo.
SEALING
Sealing guarantees that an issued grading report and the corresponding diamond belong together, and it keeps the diamond safe from oil and dirt. The HRD Antwerp sealing is tamper-proof.
SUBMITTING A DIAMOND AFTER REPOLISHING
After repolishing, a diamond can be submitted for re-examinations. Depending on the performed services (ex: Recut), in combination with previously performed examinations, the HRD Antwerp Diamond Lab will determine which additional examinations deem necessary. Depending on the required additional examinations, an extra cost might be charged.
The 4Cs
No two diamonds are alike. Each one is unique.
This is why over the years a universal standard for grading diamonds has been set. The quality and value of a diamond is defined according to the 4Cs: carat, colour, clarity and cut.
At HRD Antwerp, we are experts in analysing these characteristics. Our diamond grading reports cover all 4Cs of diamond certification for loose diamonds, ensuring consumers know exactly what diamond they are buying.
CO-BRANDING REPORT
HRD Antwerp offers various possibilities to retailers who wish to start a line of tailored HRD Antwerp grading reports.
We can personalise it with your logo, the name of your patented shape, or with a specific diamond drawing.
There are many different possibilities. Our sales team is always happy to discuss any new idea you might have.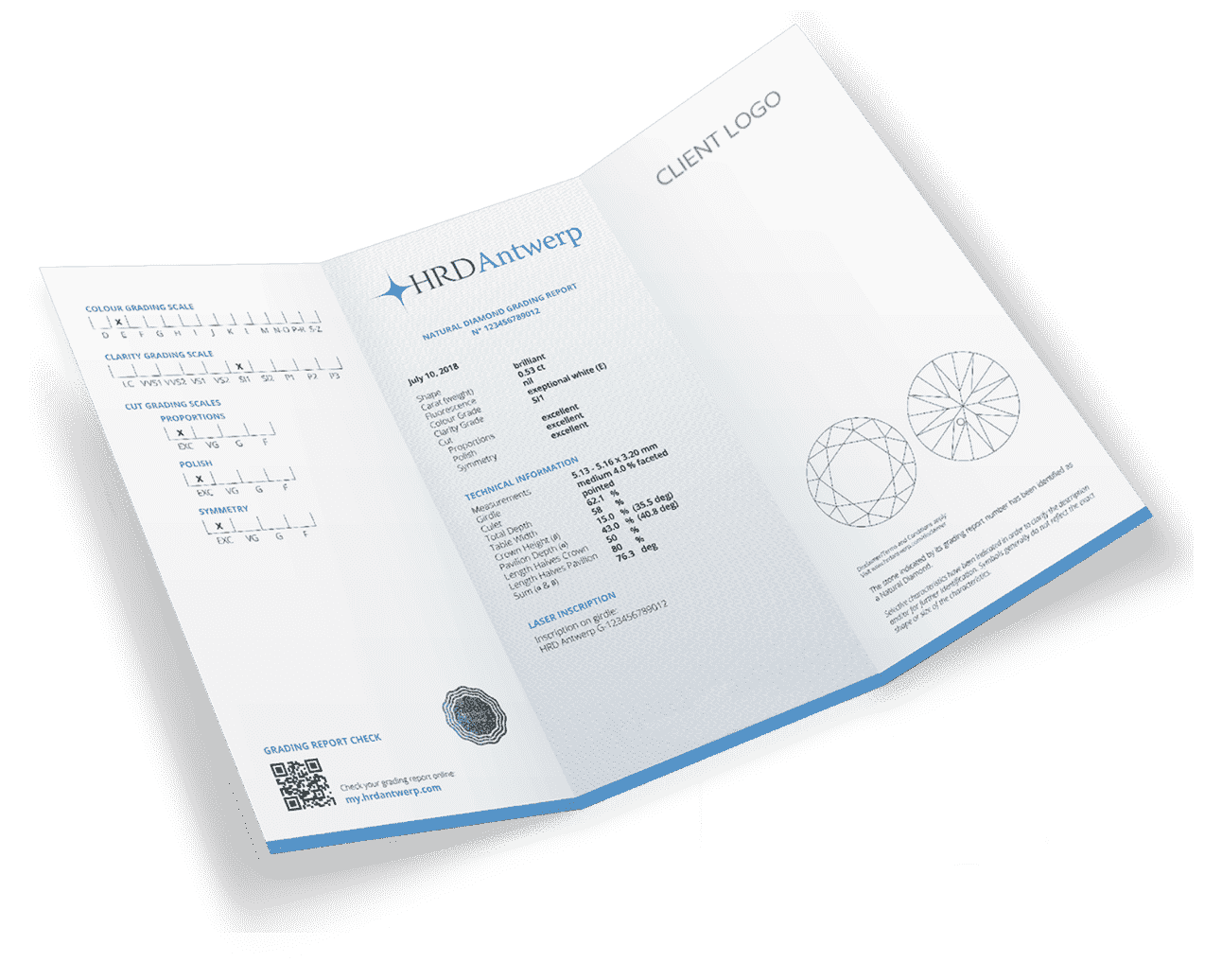 Examination
When registered in our lab, your diamond or your jewellery will be thoroughly examined by our graders and will undergo the following steps:
WEIGHT
The weight of a diamond is expressed in carats. One carat equals 0.2 grams or 100 points, which indicates the size. HRD Antwerp has extremely accurate scales that measure up to five figures after the decimal point.
SCREENING
The first step is to determine if your diamond is natural, laboratory-grown or treated. If a diamond does not pass the initial test, it will be directed to our research department to further determine its nature.
MEASUREMENT
Your diamond is accurately measured in millimetres as mentioned below: minimum diameter – maximum diameter in mm x height in mm (example: 6.44 – 6.47 mm x 4.04 mm)
FLUORESCENCE
The fluorescence grade under long wave is mentioned in the report. For the "Natural Diamond Colour Grading Report" the fluorescence grade under short wave is also mentioned.
COLOUR
Most diamonds range in colour from colourless ('D') to tinted colour ('Z'). The colour grade is determined by comparison with a series of master stones, the best grade being D.
CLARITY
All natural diamonds have traces of their growth history, which determines the diamond's purity. In most gem-quality diamonds, these are minor internal characteristics or inclusions. The very best and rarest stones are graded 'loupe clean' or 'LC'.
CUT
A diamond's cut is essential to its beauty and is a combination of craftsmanship and scientific knowledge. The right proportions, symmetry and polish create internal reflections that maximise a stone's sparkle, brilliance and fire.
DESCRIPTION PIECE (METAL, WEIGHT)
The type and weight (in grams) of the metal used in the jewellery piece are mentioned in the report.
TOTAL DIAMONDS
The total number of diamonds and/or precious stones contained in the jewellery piece is mentioned in the report, and split according to their location on the jewel.
DESCRIPTION 4CS
The carat, colour, clarity and cut of the diamond(s) is mentioned in the report. Carat and measurements are given as an approximation. Colour and clarity are also given as an approximation when the jewellery setting hides or influences the results (example: VVS-VS as clarity grade and E-F as colour grade). Cut is expressed only for the symmetry (no proportions/polish grades).
SETTING
The type of jewellery setting is mentioned in the report. Settings can range from bezel, channel, flush, pavé to invisible.
ADDITIONAL INFO
For a jewellery manufacturer or retailer or designer who wishes to personalize their jewellery grading report with a logo of their choice (designer & collection name, company logo etc.)