End of year offer: Get 23% discount for 2023 for all submissions above 50 cts!
As we are approaching the end of 2023 and HRD Antwerp exists 50 years, we wanted to do something special for our  potentially new clients  to celebrate this special year. That's why we will be giving up to a 23% discount until the end of 2023.  Read the terms and conditions on this page and register through our form if you want to test HRD Antwerp as your lab for certifying your natural loose diamonds. Don't forget, next to loose diamonds, we also grade jewellery. See you soon!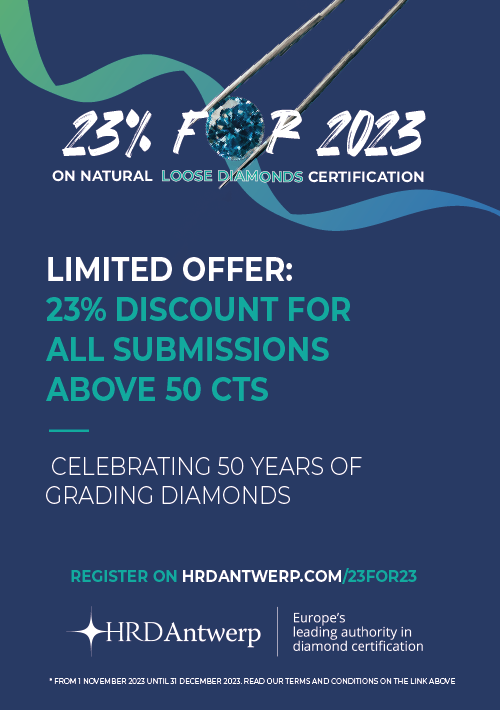 Terms & Conditions
Offer Validity: This offer is valid from 8th November 2023 till 31st December 2023.
Discount: 23% discount applicable on all loose natural diamonds above 50 carats submitted at our Antwerp, Dubai, Mumbai and Surat labs.
Eligibility: This offer is available for all new clients with HRD Antwerp, HRD Antwerp DMCC and HRD Diamond Institute Pvt Ltd during the stated scheme period. Clients need to mention the Promo Code on the packing list to avail the discount.
Discount Amount: The discount is applicable on Standard Prices of the regional laboratory including services availed under Fast and Superfast.
Exclusions: This offer cannot be combined with any other ongoing promotions, discounts, or offers. The rejection charges are as applicable.
Payment: All the payments must be made in full at the time of collection of goods. Payment methods accepted include cash, credit cards, or any other method specified by the regional laboratory.
Alteration or Termination: HRD Antwerp, HRD Antwerp DMCC and HRD Diamond Institute Pvt Ltd reserve the right to modify or terminate this offer at any time without prior notice. However, any purchase made before the offer termination date will still be eligible for the discount.
Contact Information: For any questions or concerns about this offer or its terms and conditions, please contact our team:
Antwerp Lab
HRD Antwerp NV, Hoveniersstraat 22, 2018 Antwerp. Belgium
+32 3 222 06 27 / 25
Dubai Lab
HRD Antwerp DMCC, Office 6D, 6th Floor, Almas Tower, Jumeirah Lakes Towers, Dubai. United Arab Emirates
+971 4 585 7313
Mumbai Lab
HRD Diamond Institute Pvt Ltd, Unit 101 & 102, C62 Vibgyor Tower, Bandra Kurla Complex, Bandra East, Mumbai 400051. India.
+91 22 4256 8000 / 80975 98211 / 8828139729
By participating in this offer, you agree to abide by these terms and conditions. HRD Antwerp NV, HRD Antwerp DMCC and HRD Diamond Institute Pvt Ltd reserve the right to refuse or void any discount that does not comply with these terms and conditions.